York community stadium opening delayed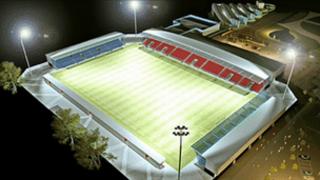 The opening of a new community stadium to be shared by York's football and rugby league clubs has been delayed.
The opening was planned for 2014, but City of York Council said it did not know when the stadium would be ready.
The sports stadium and retail development on the outskirts of York, at Monks Cross, was approved by the city's councillors in 2012.
The delayed opening has been blamed on the discovery of great crested newts at the site and procurement delays.
Work on a £90 million shopping development at the site had already been delayed by several months, following the discovery of the newts.
The council had been asked by BBC News to explain the stadium delay, but did not respond at the time of publication.
Councillor Ian Gillies, York's Conservative leader, said the council's business plan was "flawed" and it had done a "less than professional job".
The council had "been seeing the end product without due consideration to how it's going to be achieved", he added.
Mr Gillies said there was "no reason for newts to delay it".
Work on the new 6,000-seater stadium cannot start until Huntington stadium, home of the York City Knights, is demolished and the site is cleared.
The rugby league club has been told by the council to prepare for another season playing at its current ground.
The original plan was for the team to vacate Huntington stadium at the end of the 2013 season in September.
Work on the new stadium would not therefore start until September 2014 at the earliest.