Sarah Catt's jail term for full-term abortion reduced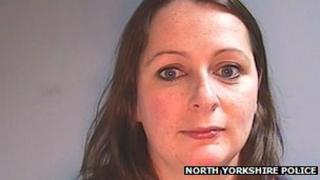 A woman jailed for aborting her baby a week before she was due to give birth has had her jail sentence reduced.
Sarah Catt was jailed for eight years in 2012 after taking a drug to induce an early delivery and then claiming the child was stillborn.
Catt, 36, from Sherburn-in-Elmet, North Yorkshire, has not revealed where she buried the boy's body.
The Court of Appeal ruled her original sentence was too long and cut it to three-and-a-half years.
Lady Justice Rafferty, head of the panel of three appeal judges, said it was a difficult sentencing exercise but the eight-year term was "manifestly excessive".
At Leeds Crown Court last September, Catt pleaded guilty to administering a poison with intent to procure a miscarriage after it emerged she had purchased a drug which can induce labour on the internet.
Original trial judge Mr Justice Cooke told the court the seriousness of the crime lay between manslaughter and murder.