Call for inquiry on North York Moors Park potash mine plan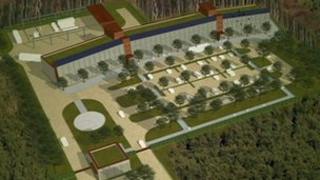 A charity has called for a public inquiry into plans for a potash mine in the North York Moors National Park.
The Campaign for National Parks (CNP) said it was "very concerned about the threat that this mine poses for the North York Moors".
Planners are considering proposals by Sirius Minerals to build a minehead and two 27-mile (44km) underground pipelines.
But the firm said the CNP's involvement was "not justified".
Planning approval for the minehead will be decided by the National Park Authority, with permission for the pipeline being considered by the National Infrastructure Directorate.
The CNP claimed that the scale of the development meant that all the separate elements of the plan should be considered by one body.
In a statement the CNP said: "Unless they are considered together the full implications and impact on the environment cannot be properly understood.
"We are, therefore, calling on Eric Pickles, the secretary of state responsible for planning, to determine whether or not the proposed potash mine development in the North Yorks Moors National Park should go ahead only after a single public inquiry, which would consider the full implications."
Chris Fraser, CEO of Sirius Minerals, claimed the scheme had already undergone an environmental assessment and would bring local and national benefits.
"The North York Moors National Park Authority has the most detailed understanding of the local environment, community, and economy, so the CNP's last minute call to circumnavigate this process and local understanding is simply not justified," he said.