York National Railway Museum closure threat 'a tragedy'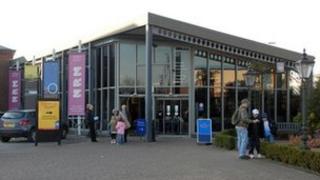 The threatened closure of York's National Railway Museum (NRM) would be a "tragedy" for the city's economy and tourism, council leaders have said.
The Science Museum Group, which runs the NRM, has warned it could close if further budget cuts were made.
In a letter to the culture secretary, York Council's party leaders said the NRM played a "vital" role in the city.
The Department for Culture, Media and Sport said it was inappropriate for it to speculate about possible cuts.
The Chancellor George Osborne is expected to announce the outcome of a government spending review later this month.
'Damaging impact'
On Wednesday, the Science Museum Group (SMG) said it was in a "weak" financial position.
One of the group's three museums in the north of England would have to close if further cuts were made to its budget, it said.
As well as the National Railway Museum, the SMG also runs the Museum of Science and Industry in Manchester and the National Media Museum in Bradford as well as the Science Museum in London.
In the letter to Culture Secretary Maria Miller, York Council's Labour, Conservative, Lib Dem and Green group leaders said they had serious concerns about the impact of any reduction in government funding for the SMG.
"It puts in jeopardy the vital contribution the National Railway Museum makes to the cultural, tourism and wider economy in this city," they said.
The museum played a "critical part" in attracting tourists to York, who generate £443m for the city each year, they added.
"As the finest rail museum in the country, and most probably the world, it would be a tragedy for it even to be under consideration for closure," they said.
York council leaders called for urgent talks with Ms Miller to explain the "damaging impact" the NRM's closure could have on the city.