Archbishop of York treated for prostate cancer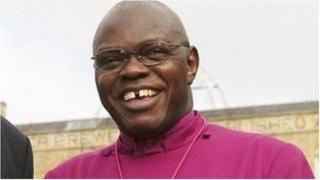 The Archbishop of York has confirmed he is receiving treatment for a locally advanced form of prostate cancer.
Dr John Sentamu, 63, said he had undergone surgery at St James' Hospital in Leeds earlier.
The second most senior cleric in the Church of England said he would be "out of action" for some time.
Dr Sentamu, who became the 97th Archbishop of York in 2005, thanked his surgeon and hospital staff for their care.
He said: "I am thankful and grateful for Mr Bill Cross, and his surgical team at St James' Hospital Leeds, who today operated on me for a locally advanced cancer of the prostate. I am also grateful to the nursing staff who are caring from me.
"I am thankful, too, for all of you who regularly pray for me and support me, especially my staff at Bishopthorpe Palace.
"I will be out of action for some time, and will continue to value your prayers. I look forward to resuming my ministry as soon as possible."
'Great comfort'
Dr Sentamu's statement said he was drawing "great comfort" from words attributed to the German Lutheran pastor and theologian Dietrich Bonhoeffer who was hanged by the Nazis in April 1945.
"God, gather and turn my thoughts to you. With you there is light, you do not forget me. With you there is hope and patience. I don't understand your ways, but you know the way for me."
He ended his statement saying: "I wish you all joy in the Lord."
Dr Sentamu fled to the UK from Uganda in 1974 after speaking out against the regime of Idi Amin.
He was ordained five years later and became Bishop of Stepney in 1996.
Six years later he was appointed Bishop of Birmingham before becoming Archbishop of York in 2005.
BBC religious affairs correspondent Robert Pigott said Dr Sentamu had divided opinion with high-profile acts such as cutting up his clerical collar on live television, declaring that he would not wear one again until Robert Mugabe left office as President of Zimbabwe.
He said: "To some such actions have been those of a publicity-seeker, but to many others they're a sign of a person prepared to 'walk the walk'."
Dr Sentamu has also made waves by supporting the right of traditionalist Anglicans to have exemptions from serving under women bishops, and has usually been placed in the Evangelical movement of Anglicanism, although traditionalists have sometimes complained he is unreliable, our correspondent said.