Duke joins veterans for Kohima memorial in York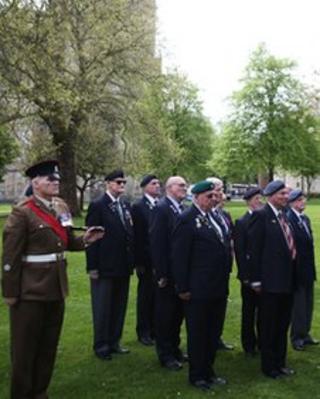 The Duke of York joined veterans of the Battle of Kohima for their annual memorial service and wreath-laying which has taken place in York.
The battle took place in North East India in 1944 during World War II when Allied Forces halted the advance of the Japanese army in Asia.
More than 4,000 British and Indian soldiers were killed in the siege.
The duke met surviving veterans and their families for the ceremonies in York Minster and the Minster Gardens.
Sea Cadets from York lined the steps to the Minister as the Duke entered the west door.
It is the first time the 14-17-year-olds have taken part in the memorial service.
Edgar Merrey, who served with the 7th Battalion The Worcester Regiment, said: "The battle at Kohima was nasty and I am sorry that we had to be nasty.
"We have links with the Japanese now. I had a Japanese friend from the 31st Division who used to come to this reunion but sadly he has now died."
Ronald Brown, 91, who served with the Royal Signals, said: "It has been a great day for me, absolutely great.
"To be in the Minster with that gathering including the duke was wonderful."