Pickering's £2m flood defence plan approved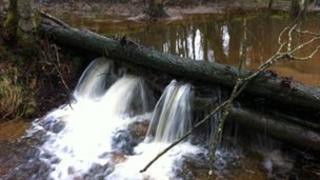 Plans for a £2m flood defence scheme in a town on the edge of the North York Moors has been approved by the authority.
Proposals to protect Pickering include the construction of a reservoir near its beck to store flood water.
It was approved on the basis that a number of conditions were met including traffic measures for works vehicles and access to the site from landowners.
Campaigners for the flood scheme said it was "very pleased" by the decision.
Jeremy Walker, chairman of the Slow the Flow campaign group, said: "It's a significant step forward but we're not quite there yet."
The scheme is expected to go before planners at North Yorkshire County Council next month for a final approval.
If approved, Mr Walker said he hoped work on the project would start sometime this year.
Pickering last suffered serious flooding in June 2007.
The Pickering Flood Storage Scheme would provide protection for the town from a 1-in-25-year flood event, according to the Environment Agency.
It would complement measures already carried out upstream of Pickering Beck.
This involved building small natural dams and planting trees to slow the flow of water running into the town.