Scotch Corner Chapel WWII memorial opens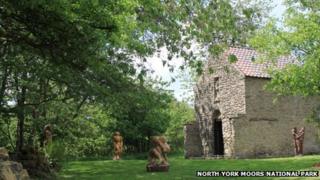 An isolated, small stone chapel built as a war memorial for the dead of World War II is to open for viewing in a national park.
Scotch Corner Chapel, near Oldstead in the North York Moors National Park, was built by John Bunting, a master at nearby Ampleforth College.
In particular it honours former college pupils who died in the 1939-45 war.
Mr Bunting built the chapel in 1957 out of the ruins of an old farmstead.
The chapel is managed by the Bunting family and contains some of Mr Bunting's sculptures including a soldier in paratrooper's helmet and commando boots.
The land was also the site of the Battle of Byland between the English and the Scots in 1322.
There are two Bronze Age burial mounds nearby.
The chapel will be open between 12:00 and 16:00 BST.