Whitby Abbey grounds damaged by illegal metal detecting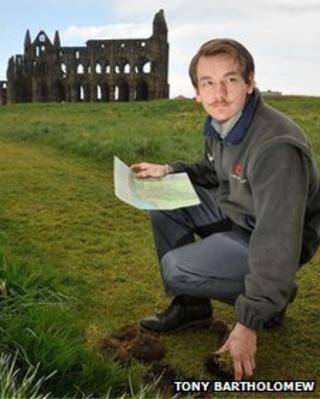 Damage has been caused to the grounds of the historic Whitby Abbey by illegal metal detecting.
Since March, 14 holes have been dug across the Grade I-listed site while the property is closed at night.
English Heritage and police believe it is the result of illegal metal detecting, known as nighthawking.
Heritage chiefs said it was extremely unlikely anything significant remained in the ground and the activity was being taken "very seriously".
The abbey, which was the backdrop to the opening of Bram Stoker's Dracula, dates from AD664 and has been the subject of numerous archaeological digs over the years.
English Heritage said the attacks had happened between March and May.
Clea Warner, English Heritage area manager for Yorkshire, said: "This activity is illegal and is deeply disheartening.
"Whitby Abbey is a precious historic place and people who choose to damage it are robbing everyone of our collective heritage.
"While it is extremely unlikely anything significant remains in the ground, if these people have found something and not declared it they are denying us all further knowledge of Whitby."
Mark Harrison, national policing and crime adviser for English Heritage, said: "These are not people enjoying a hobby, nor professionals carrying out a careful study.
"Any objects removed belong to the landowner, and the history that is being stolen belongs to us all."
North Yorkshire Police have appealed for anyone with information to contact them.