Richard III burial row campaigners march through York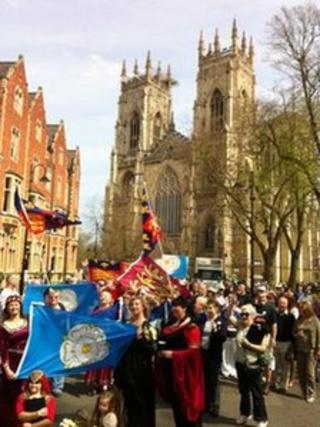 About 100 people have marched through York in support of a bid to have Richard III buried in the city.
The march from Castle Museum to Museum Gardens was led by Vanessa Roe, the king's 16th great niece, who said she was on a "moral crusade".
King Richard's skeletal remains were found by archaeologists beneath a car park in Leicester, and are due to be re-interred in the city next year.
But Ms Roe and other relatives claim it was his wish to be buried in York.
"We're bringing awareness of Richard and his time in York," she said.
"He loved York, he loved Yorkshire, he wanted to be buried here. We're trying to fulfil his wishes."
'Strong case'
The licence to carry out the dig, issued by the Ministry of Justice, gave the University of Leicester the authority to decide where to rebury the king.
The university said his remains would be buried at Leicester Cathedral "in keeping with good archaeological practice".
Lawyers acting on behalf of the Plantagenet Alliance, which includes 15 of Richard III's relatives, have lodged papers in the High Court seeking a judicial review of the decision.
Ms Roe said: "I think we do have a very strong case for Richard to be brought back to York."
Richard was killed at the battle of Bosworth in 1485 and was hurriedly buried in the church of the Greyfriars in Leicester, which was subsequently lost during redevelopment.