PC Andrew Bramma death: 'Error of judgement' led to crash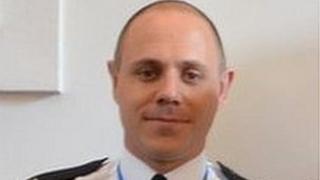 A police officer died instantly when he lost control of his van on a country road and hit a tree, an inquest heard.
PC Andrew Bramma, 32, was killed in the crash in West Tanfield, North Yorkshire, in January.
The father-of-two was driving at about 70 mph while responding to a 999 call and was unaware colleagues were already at the scene.
Coroner Rob Turnbull said the crash was due to an "error of judgement" and recorded a verdict of accidental death.
A post-mortem examination revealed PC Bramma suffered multiple injuries, mainly to his head, after crashing into the tree side-on and died instantly.
The inquest heard there were no witnesses and passers-by stopped to help and give first aid but realised he was already dead.
Impact 'severe'
Mr Turnbull said PC Bramma was unfamiliar with the road, using a satellite navigation device to find his way around.
He said: "There came a time when he approached a series of bends... where he appears to have lost control of the vehicle.
"In that accident, Andrew suffered fatal injuries. The impact must have been severe.
"It seems to be an error of judgment on Andrew's part and a lack of capability of his vehicle to negotiate this bend at such a speed which caused this accident."
Mr Turnbull said PC Bramma was not aware that his colleagues had responded to the 999 call.
He said: "I think, if things would have panned out differently, he'd have been told not to drive at that speed, but there wasn't time for that message to get back to him."
PC Bramma's father Brian told the inquest: "He genuinely thought he was attending an incident to help the public. He didn't know other officers had arrived. But we've got the knowledge he was responding to help people."