Queen Victoria's stockings for sale in Leyburn auction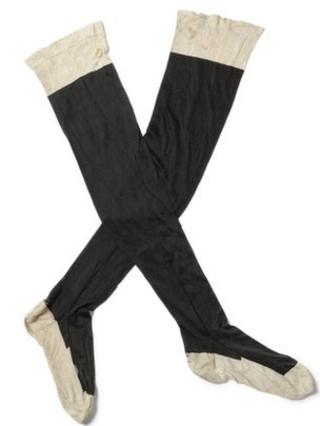 A pair of Queen Victoria's silk stockings will go up for auction in North Yorkshire.
The hosiery, dating from the 1870s, is embroidered with the royal VR monogram and will go under the hammer at Tennant's Auction House in Leyburn.
Queen Victoria's under garments do sometimes come up for sale as she would give away her hosiery away as presents to people who worked for her.
The auctioneers expect the stockings to fetch between £400-£600 on Friday.
All Queen Victoria's undergarments would have her monogram embroidered on them.
'Not pristine'
Social history author Dulcie Lewis, from Carperby in North Yorkshire, said: "It seems a strange thing that these undergarments are up for sale, but I know, for example, that her very, very large knickers have also been in an auction.
"The reason why these undergarments have lasted is she gave her knickers and her stockings away as presents to people who she liked. It was just something she did.
"Often her underwear would end up in the houses of people in the court or people who had done her a service.
"It seems extraordinary now, but she would wear them a few times then would give them away."
A spokeswoman for the auctioneers, Tennants said: "The stockings are understandably not in pristine condition; general, expected wear and tear and discolouration is all present but with such important history they are still estimated to make between £400-600.
"This particular style of stocking was thought to be Queen Victoria's favourite and worn throughout the 1870's."
The auctioneers said the stockings were "something a client turned up with, they were not part of family hand-downs".