Additional mobile speed cameras for North Yorkshire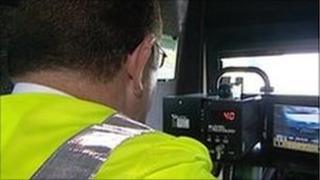 More mobile speed cameras are to be used in North Yorkshire after a pilot scheme saw fatal road crashes reduced by nearly half, according to police.
During the first year of using the mobile safety camera van, fatal crashes caused by speeding had dropped from 14 to seven.
More than 26,000 speeding motorists have been caught, including a motorcyclist who registered 144mph.
Three new mobile cameras will take to the roads from Friday.
North Yorkshire Police said speeding was responsible for 24% of all road deaths in the county over the three years to 2010.
Because of that, and the fact that the county is popular with bikers, the force brought in a mobile safety camera pilot in June 2011.
Assistant Chief Constable Iain Spittal said: "The results from the pilot scheme fully justify the expansion of our mobile safety camera capability.
"We have witnessed some extreme offences brought before the courts, supported by indisputable evidence captured by the high-tech equipment used in the safety camera van."
The cameras will be self-funding with the running costs paid through levies generated by speed awareness course fees.
Vans will be sent to routes highlighted through intelligence and collision data as well as those flagged up by residents as being hotspots for speeding.