Land's End to John O'Groats record attempt cycle begins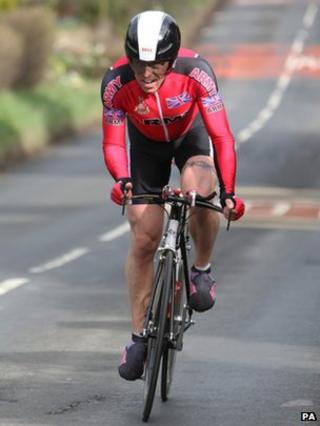 A music teacher is hoping to break the record for cycling from Land's End to John O'Groats and back again.
Chris Hopkinson, from Richmond, North Yorkshire, set off on the 1,700-mile journey at 10:00 BST on Tuesday.
The 45-year-old is riding for charity and training for a bike race across the US.
He will have to battle cold weather and strong winds as he aims to beat the current record of five days, 21 hours and eight minutes.
Mr Hopkinson, who originally took up cycling in order to get to work, said he had been preparing for over a year and was "ready for the challenge ahead".
"I just hope the crew can stay warm," he said.
He wants the record attempt to raise awareness of the Royal Signals Benevolent Fund and lay the foundations for his attempt on the 3,000-mile race across the US later this year.
The current round-trip record from Land's End to John O'Groats and back was set in 2010 by Ben Rockett, a postgraduate student from the University of Bath.