North Yorkshire Viking hoard is 'nationally important'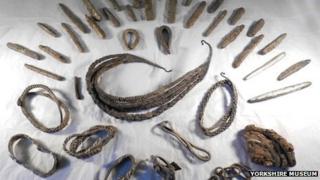 A Viking hoard discovered in North Yorkshire is a "significant and nationally important discovery" according to experts.
The items, found near Bedale in May, include a gold sword pommel, a unique silver neck ring and an armlet.
The Yorkshire Museum, in York, said it hoped to purchase the hoard and put it on display.
The items will remain at the British Museum in London until they are declared treasure and valued.
Part of the hoard was found by a metal detectorist Stuart Campbell who then informed archaeologists who uncovered the rest.
'Beautiful and rare'
A total of 29 silver ingots, four other silver neck rings, gold rivets and half a silver brooch were also found in the hoard which is believed to date from the late ninth or early tenth century.
Andrew Morrison, head curator at the Yorkshire Museum, said: "The artefacts uncovered are typical of a Viking hoard, with the majority of it being silver ingots which were used for currency.
"However the gold sword pommel and a unique silver neck ring are incredibly beautiful and rare finds. We now hope to be able to raise the funds needed to keep them in Yorkshire."
The large sword pommel is made from iron and inlaid with plaques of gold foil and is believed to be from an Anglo-Saxon sword.
The neck ring is made up of four ropes of twisted silver strands joined together at each end. They end in hooks which would have been linked together when the collar was worn.
Mr Morrison said the items were being conserved at the British Museum.
The exact location of the find has not been revealed at the request of the landowner.