Tan Hill Inn cut off by deep snow drifts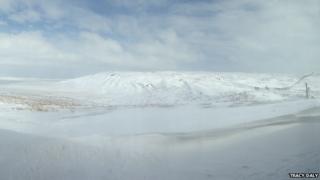 Deep snow drifts have cut off what is said to be England's highest pub, stranding staff and guests.
Tracy Daly, the pub's landlady, said snow drifts near the pub ranged in height "from knee-high to above the head".
She said a snow blower and plough were expected to open the road to the pub later, parts of which were under eight inches (20 cm) of ice.
The Tan Hill Inn, North Yorkshire, stands 1,732ft (528m) above sea level.
Ms Daly said the weather had turned the hotel into a rescue centre after stranding staff and four guests over the past five days.
She said: "They are our guests, they eat the things we do and we eat together and they've been helping out."
Most importantly the beer had not run out, she said.
Snow in summer
Two of the people stranded had made their way to the pub on Thursday on the advice of the Automobile Association after their car became stuck nearby.
The other two guests were looking for work in the area.
Ms Daly said the amount of snow was unusual for this time of year but the pub had experienced snow even in July and August.
She said the time was being spent in cleaning the pub and its kitchen.
Once the route to the pub is clear Ms Daly hopes to take a trip for an appointment at the doctor in Reeth, about 12 miles (19km) away, said Ms Daly.
The inn at Tan Hill dates from the 17th century.