Finding source of Yorkshire oil deposits is 'unlikely'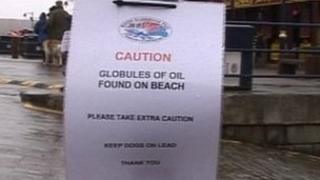 It is "highly unlikely" that the source of oil deposits on Yorkshire beaches will be found, the Maritime and Coastguard Agency (MCA) has said.
Up to 15 seabirds died and dozens more were found covered in oil after it was washed ashore by strong winds last week.
A clean-up operation was carried out between Scarborough and Speeton.
The MCA said tests showed it to be "common fuel oil" used by ships all over the world.
Fred Caygill from the agency said: "It is highly unlikely that we will get any new information about the source of the spill, and the matter is closed.
"Unless you catch them in the act, you don't know who is behind it."
'Unacceptable'
Scarborough Sea Life Centre said it had treated a number of birds and seals affected by the oil.
Robert Goodwill, Conservative MP for Scarborough and Whitby, said he suspected it had come from a ship cleaning out its tanks at sea.
He said: "Thankfully it wasn't a serious problem this time, but we need to be very clear that this is unacceptable for skippers to do this at sea."