Plans submitted for North York Moors potash mine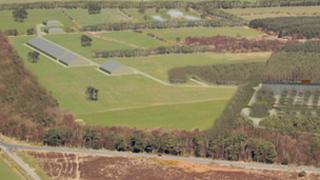 A company has submitted a planning application to build a potash mine in the North York Moors National Park.
Sirius Minerals made the announcement to the Stock Exchange earlier.
The company said that test drillings showed the area contains some of the world's biggest deposits of potash, which is used mainly in fertilisers.
If the plan is approved by North York Moors National Park Authority, the mine head will be constructed on farmland south of Whitby.
The project includes a 27-mile (43km) underground pipeline to transport the potash ore from North Yorkshire to Teesside.
Earlier this month, the company was granted approval by the the Marine Management Organisation (MMO) to extract potash from under the seabed.
'Robust case'
Chris Fraser, managing director and chief executive of Sirius Minerals, said the project would create "significant new jobs" and improve local skills "for generations to come".
The company added in a statement: "A huge amount of technical work and studies have gone into the application and we believe that we have both put forward a robust planning case and set a new benchmark for sensitive design in the mining industry."
But Margaret McKelvie, who lives next to the proposed site, said she would appeal for compensation if the mine went ahead.
"It's completely tranquil, there is no noise at all, beautiful views," she said.
"Suddenly, I'm going to have all this noise and disruption and so on.
"Having bought at this lovely spot you can imagine that it is devastating."
The National Park Authority said the application should be available for the public to view on its website next week.
It will also be available to the public at locations in Helmsley, Whitby and Scarborough.
The authority said it is planning to hold public meetings as part of a 16 week consultation process, with a decision on the application expected in May.