Harrogate igloo sale raises £2,500 for Yorkshire Cancer Research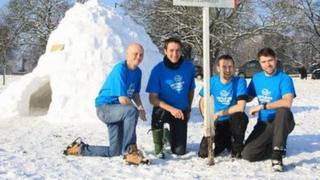 An igloo put up for sale in Harrogate to raise money for Yorkshire Cancer Research has raised more than £2,500.
The igloo was built by 31-year-old Craig Parker, who has fought cancer three times, and four friends.
The winning bid on eBay on Thursday night was £571. A further £1,930 has been raised on a special JustGiving page set up by the group.
The new owner of the igloo, David Pitts, said: "We could start Harrogate's first ice hotel."
Mr Pitts added that he was not too worried about the expected thaw at the weekend: "If somebody books tonight it's fine, Friday night out in Harrogate, they'll be fine."
The igloo had been described as "a smartly appointed ground floor stand-alone studio apartment with a huge garden".
The men were thanked by the charity on Twitter after the sale ended.
A spokeswoman tweeted: "Thank you Greg, Carl, Mark, Craig and Tom. Brilliant idea! Donations still welcome."
One of the men who built the igloo on Monday, Tom Davies, said: "It's fantastic, the amount of people that have come forward and donated and spread the word on things like Facebook and Twitter, it's just absolutely fantastic how generous people have been."