Doreen Lawrence honoured by University of York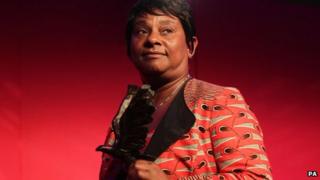 Doreen Lawrence, the mother of murdered teenager Stephen Lawrence, has been awarded an honorary doctorate by the University of York.
Her 18-year-old son was killed by white youths in a racist attack in Eltham, south-east London, in 1993.
A judicial inquiry into his death concluded that the Metropolitan Police was "institutionally racist".
His mother continued to campaign for justice for her son and set up a charitable trust in his name.
'Exemplar of dignity'
The Stephen Lawrence Charitable Trust was founded by Mrs Lawrence and her former husband Neville.
A university spokesman said Mrs Lawrence was a tireless campaigner against racism and an "exemplar of dignity in the face of adversity for students and staff".
She was awarded an OBE for services to community relations in 2003 and is a patron of the charity Stop Hate UK.
Stephen Lawrence, who planned to study architecture at university, was attacked and stabbed as he waited at a bus stop on 22 April 1993.
His death led the nation to reflect on attitudes to race and justice.
The Macpherson Report's recommendations in 1999 also triggered a major reform of the justice system in England and Wales.
The philanthropist Yohei Sasakawa was also awarded an honorary doctorate by the university in a separate ceremony.
On Saturday the university will confer similar awards on playwright Trevor Griffiths, historian Bettany Hughes, and law commissioner Frances Patterson.
The University of York opened in 1963 and now has almost 16,000 students.