North Yorkshire villagers' fury over mobile signal loss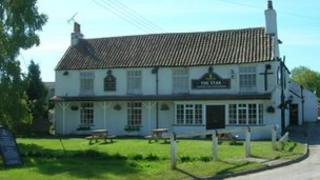 Residents in rural villages want answers as to why they had no mobile phone signal for more than a month.
People in Weaverthorpe, Helperthorpe and East and West Lutton said the loss of the Orange signal had "enormous repercussions" as it was the only service provider in the area.
Resident Kate Lyon said: "Customer service has been terrible. Who's to say this won't happen again?"
Orange apologised and said a mast which had been turned off was now back on.
Ms Lyon said signal was lost just before Christmas and residents had not been informed why.
"Throughout all this it has been a one-way system and at no point have we had proper communication from Orange," she said.
"All we have asked for is proper dialogue and some explanation but it feels like we have been kept in the dark."
'Vets and nurses'
Ms Lyon said the loss of signal had affected businesses, caused problems for people with work and had led to some people cancelling their contracts.
"There are a lot of people working in agriculture and the farming community and they rely on their phones for business," she said.
"On call vets and nurses were left without their mobiles.
"Rural communities like ours cannot function properly if we do not have the standard of communication we expect as paying consumers."
A public meeting is being held at the Star Inn in Weaverthorpe at 19:30 GMT to decide what action to take next.
Ms Lyon added: "We want reassurances that this does not happen again."
EE, which owns Orange, said the mast had been turned off as part of the decommissioning of masts following the merger of Orange and T-Mobile.
Howard Jones, from EE, said: "In this particular instance the switching off of one mast did impact coverage for some customers and we have deemed it appropriate to re-connect that mast to return to previous service levels."