Hornsea Floral Hall to be run by campaigners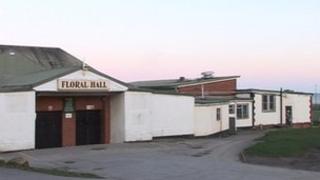 A community hall in East Yorkshire threatened with demolition is set to be taken over by campaigners who have been trying to save it.
Supporters submitted a business plan last August for the community to run Hornsea's Floral Hall after they were given a six-month reprieve in March.
The East Riding of Yorkshire Council had proposed demolishing the 99-year-old venue.
The council said it was finalising an agreement to hand over the hall.
Independent councillor, Barbara Jefferson, who was behind the campaign, said: "This is fantastic news. It's what we were fighting for.
"It's going to be absolutely great that the hall's getting the opportunity to say 'I'm here, I'll be 100 years old in July'."
She added: "Hornsea would have been a very sad place without it."
'Dilapidated state'
Councillor Stephen Parnaby, the leader of the council, said: "This is excellent news and I am delighted that matters are moving towards a successful, positive outcome.
"Now the council and local people can move forward and, despite the fact that a number of important hurdles still need to be overcome, I am confident a deal will be formally sealed in the near future."
Mrs Jefferson said a public meeting was due to take place on 31 January for residents and supporters to share ideas and air their views on the future use of the hall including the type of events and activities people would like to see.
"We've got to move forward to keep it going, so now people have to think and say what they want to see happening here," she said.
The Conservative-led council had planned to replace the building with a car park, claiming it was in a "dilapidated state" and was running at a loss.