Knipe Point cliff landslips 'could be from leaky pipe'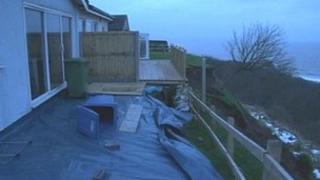 A leak from a waste pipe could be the cause of cliff landslips threatening a number of bungalows in Scarborough a new report said.
The report was commissioned by the Knipe Point Residents Association.
It concluded water seeping from the cliff face had most likely leaked from a pipe from the nearby McCain factory.
McCain said it only received the report recently and had asked geological experts to assess the contents of the report before commenting further.
The report was carried out by Huddersfield-based engineering and geological experts Ashton Bennett.
'Longstanding geological issues'
McCain, the frozen food company, has a factory inland of Knipe Point.
The company said in a statement it was aware of the "longstanding geological issues at Knipe Point".
"We have participated constructively on a voluntary basis in past authoritative studies which have concluded that inherent and unstable geological conditions at Knipe Point are the most probable reason for the issue," it added.
McCain also said the pipe referred to in the report belonged to Yorkshire Water.
Yorkshire Water said it would look closely at the findings and respond to the residents as soon as possible.
In 2008, three cliff-top bungalows were condemned and demolished after landslips and there was further slippage in 2010. Now a further four properties are at risk of sliding into the sea after fresh movement.
The community of mainly retired people consists of about 55 homes in total.
'Not sea erosion'
Scarborough Borough Council said the four privately-owned properties would have to be pulled down after "further significant land slippage earlier this week put them at risk of collapse".
It added after recent wet weather the currently unoccupied properties were just a few metres away from the edge of the "active landslide".
After the report Malcolm Pirks, chairman of the Knipe Point Owners Association, said he was now convinced the landslips were a man-made problem.
He said: "This is man-made, not sea erosion. It never has been sea erosion."
Mr Pirks added the report was proof "at last" of what the resident's association had been saying for four years.