Landslip at Knipe Point, Scarborough 'threatens' homes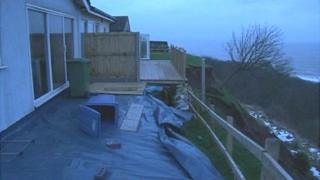 Four properties are at risk of sliding into the sea after a fresh landslip at Knipe Point near Scarborough.
Council officials were trying to assess the stability of the immediate area to establish what action needed to be taken.
The authority said the owners of the properties had been contacted.
In 2008, three cliff-top bungalows were condemned and demolished after landslips and there was further slippage in 2010.
The community of mainly retired people consists of around 55 homes in total.
'Big stress'
Malcolm Pirk, chairman of the Knipe Point Owners Association, said the concern about the landslips had been ongoing for five years.
He said: "The council have now come along and condemned these properties. But how many could be next we just don't know.
"It is very worrying. People came here to retire, me included, and to uproot at this stage in your life is a big stress."
A spokesperson for Scarborough Borough Council said: "The owners of the properties have been notified and we are currently liaising with North Yorkshire Building Control to assess the stability of the properties and immediate surrounding area with a view to agreeing what action needs to be taken next."