Buyer found for family firm Woollons and Harwood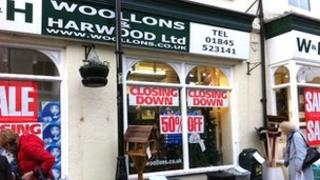 A buyer has been found for part of a family business which was to close after 112 years of trading.
Woollons and Harwood, which has kitchenware and gift shops in Thirsk and Helmsley, was due to cease trading at Easter.
The company, which employs 14 people, said the decision to close was made after a series of robberies in 2012.
A buyer has now been found for the Thirsk store which will continue trading, the company said.
Paul Woollons, managing director, said: "A couple called Chris and Pauline Moran from Boroughbridge Hardware are going to take over the Thirsk store and keep all the staff on. It will run as Woollons and Harwood."
Mr Woollons said he had also had fresh interest in the Helmsley shop and was optimistic a buyer for that store could also be found.
The company, which was established in 1901, was hit by a series of thefts in 2012 which Mr Woollons said had prompted his decision to close.
Thieves stole about £1,000 of Crown Derby pottery from the Helmsley store in February 2012.
The firm's internet business was damaged when stock worth about £8,000 was stolen in two raids on the company's warehouse in the summer, Mr Woollons said.