Crash PC Andrew Bramma's family to get fund help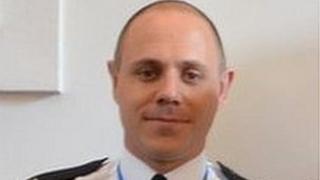 A fund to help the family of a police officer who died in a road crash while on an emergency call in North Yorkshire has been launched.
PC Andrew Bramma, 32, was killed when his patrol van struck a tree in West Tanfield, near Ripon, on 5 January.
North Yorkshire Police said it had set up the fund to help his widow Kathryn raise their two sons, Jack, three, and 11-month-old baby Sam.
The force said it had been "inundated with offers of support".
In a statement, North Yorkshire Police said it had already received sums of money from some police officers and members of the public from across the country.
"Kathryn is now facing the prospect of bringing up Jack and Sam without the emotional, practical or financial support that Andrew would have given her.
"The aim of this fund will be to enable Kathryn to give Jack and Sam at least the same opportunities that they would have had if Andrew had been there to provide for them throughout their childhood, into adolescence and beyond."
The force said more than 1,000 people had contributed to an online book of condolence on its website.
PC Bramma, who was based in Harrogate, had only worked for the North Yorkshire force for four months after transferring from Greater Manchester Police where he had served since 2008.
He was on his way to reports of a road accident when the crash happened. He was the only occupant in the vehicle.