York's Leeman Road flood defence work to start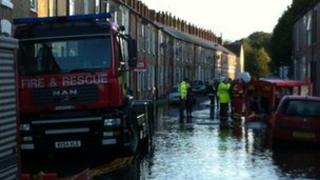 Work on long-delayed flood defences in York will start at the end of January, the Environment Agency has confirmed.
The £3.2m scheme in the Leeman Road area of the city aims to reduce flood risk to about 400 homes and businesses.
Funding for the scheme was turned down in 2011 but was approved in February 2012 after the council stepped in with a £1m contribution.
The agency said construction work, which includes building a new flood wall, will take 12 months to complete.
Work was due to have started in Autumn 2012 but was further delayed due to the need to move an underground power cable.
Existing flood defences in the area were first built in the 1980s but were nearly overtopped in 2000.
The new scheme includes a brick flood wall and raising some of the existing flood embankments.
In 2012, several properties were affected by flooding when sewers in the area were overwhelmed by heavy rain.