Ripon flood defence rubbish 'dumped' in River Skell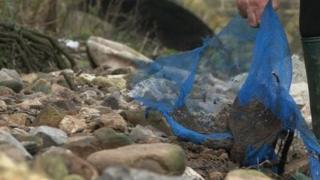 Debris was left in and around a river after the building of flood defences, the Environment Agency has admitted.
Some residents in Ripon have voiced anger over rubbish dumped in the River Skell when the £14m scheme was completed last year.
They are also concerned about flooding on some roads after river banks were heightened.
The agency said it was concerned by the rubbish in the river and was working to address the issues raised by residents.
The defences include a flood water storage area upstream of the city and new flood walls and embankments in the city centre.
It improves flood protection to more than 600 properties.
'Lake outside houses'
Fred Crossman, from Fishergreen in Ripon, has taken more than 100 photographs of construction debris in and alongside the river.
"It really upsets me that we have been left with this after so many millions of pounds have been spent on the flood work," he said.
The Environment Agency said in a statement: "We are concerned about the amount of rubbish in the River Skell and we are working with local residents to ascertain the extent of the debris."
The agency said work to clear the river would begin once water levels subsided.
Mr Crossman also said the defences had increased surface water flooding as rain water ran off the raised river banks.
He said: "When it rains were are left with a fairly nice low river and a lake outside of our houses."
Barbara Dixon, who also lives on Fishergreen, said: "They didn't realise that if you lift the bank by a metre then water will run down on to the road."
The Environment Agency said it had installed additional drains on Fishergreen and was investigating why surface water was still posing a problem.