Pickering flood defence plan boosted by £1m release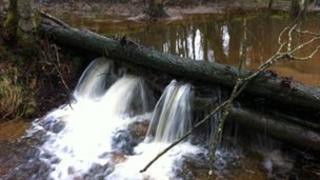 Almost £1m has been released by a council to enable work on a flood defence scheme in North Yorkshire to move forward.
Ryedale District Council said releasing the funds would help end uncertainty about the plan to protect Pickering.
The project would involve the construction of a reservoir in the catchment area of Pickering Beck to store flood water.
The plan, which could cost £2m, was shelved in 2011 due to rising costs.
The plan was passed by 26 votes for and 1 against the £950,000 scheme.
The Pickering Flood Storage Scheme would provide protection for the town from a 1-in-25-year flood event, according to the Environment Agency.
It would complement measures already carried out upstream of Pickering Beck.
This involved building small natural dams and planting trees to slow the flow of water running into the town.
The Environment Agency, Ryedale District Council and North Yorkshire County Council have committed £1.5m towards the scheme's costs but a funding gap of around £500,000 remains.
The Conservative-run district council said releasing its contribution should help in attracting further support to bridge the gap and deliver the scheme.
A planning application for the reservoir is expected later this month.