Harrogate rail investment 'on wrong track'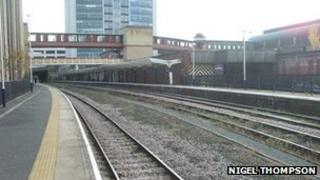 Network Rail has apologised after it wrongly announced it was investing millions on a North Yorkshire station.
Revealing its spending plans for the next five years earlier in the week, the company said it would spend £10m to improve capacity at Harrogate station.
It later said the money was actually being spent 36 miles (58km) away in Huddersfield, West Yorkshire, and apologised for "genuine human error".
Harrogate Chamber of Trade said it understood but investment was needed.
Speaking on BBC Radio York on Tuesday, Network Rail's route managing director Phil Verster said the investment at Harrogate station would take place between 2014 and 2019.
He said: "We expect to see passengers very pleased with what they see."
Speaking to the station again on Thursday, Mr Verster said he should have spotted the error in a press release and "profusely apologised".
Brian Dunsby, chief executive of Harrogate Chamber of Trade, said: "Naturally we are disappointed but to be quite honest we were quite surprised to hear the announcement.
"In a way I feel sorry for Network Rail having made this mistake but I'm sure they will make it up to us in one way or another."
Mr Dunsby said increased capacity was needed at the station, as well as parking space and improvements to the line.
Mr Verster said he would meet with Mr Dunsby and other local stakeholders to talk about their hopes for the station and would "really consider which of those plans can be considered to be phased in in the future".