Baha Mousa death: Derek Keilloh's patients lead campaign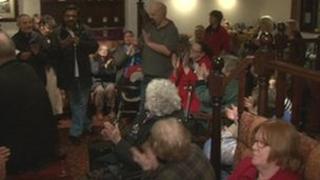 Hundreds of people have attended a meeting calling for a GP who was struck off over the death of a detainee in Iraq, to be reinstated.
Derek Keilloh, 38, was an army medic in Iraq in 2003 when Baha Mousa was severely beaten by British soldiers.
The Medical Practitioners Tribunal Service (MPTS) found Dr Keilloh guilty of misconduct last month.
About 300 people attended the meeting and Dr Keilloh was described as "of the highest integrity" by his supporters.
The meeting in the town heard many of his former patients in Northallerton, North Yorkshire, are campaigning for him to remain as their GP.
'Failed in duty'
Mr Mousa suffered 93 injuries after he was arrested by soldiers who believed, wrongly, that he was an insurgent involved in the murder of four of their colleagues the month before.
Dr Keilloh supervised a failed resuscitation attempt, and the MPTS said he did "everything possible" to save Mr Mousa's life.
But, the panel said by not reporting the injuries to senior officers he failed in his duty to protect his patients from further mistreatment.
The MPTS also criticised his "repeated dishonesty" in the courts-martial and public inquiry that followed.
County Councillor Tony Hall attended the meeting and said: "What we're trying to achieve this evening is two-fold.
"We have to send out a message to Dr Keilloh that this town very much supports the work that he has done in the years that he has been at the Friarage Hospital and at the GP surgery.
"But I think you'll find that people also want to express their concern to the powers-that-be that, in fact, there has been some injustice here and they want to express and show support and put in front of the panel and say look perhaps there is an opportunity to have a second look."
'Excellent doctor'
Patient Claire Hutchinson: "We want to show our support for Dr Keilloh, people see the TV reports and the media reports, we see the man.
"Dr Keilloh is an excellent doctor he has the highest integrity, he works with nothing but his patients at the centre of his care."
Doug Doherty, who organised Monday's meeting in Northallerton, said he hoped it would send a "clear message" to the MPTS.
He said: "The event tonight is not only patients, it's also colleagues he's worked with past and present and friends and everyone that knows him.
"The local community will always think of him as one of the best GPs this community has ever had."
Dr Keilloh has until next Friday to appeal in the High Court, against the panel's decision.