Yorkshire Water apology after Malton pump failure floods home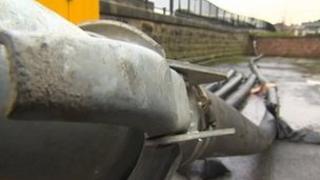 Yorkshire Water has apologised to a couple whose home was flooded at the weekend after the firm failed to refuel a pump keeping sewage at bay.
Nikki and Karen Hinds' home, in Castlegate, Malton, North Yorkshire, was flooded for the sixth time in five weeks after the pump stopped working.
A spokesman for Yorkshire Water said the company had not met its "high standards of operational performance".
The firm had earlier blamed thieves for stealing diesel for the pump.
'Not very festive'
The Hinds' home was flooded earlier in December due to heavy rain, as well as suffering flooding in September and November.
Mr Hinds said as soon as the pump ran out of diesel, the house was flooded with sewage.
He said: "Within seconds, the drainage shaft fills up and within minutes it's in the house.
"We had to call the emergency services for the sixth time within a month."
Mrs Hinds said the latest flooding had put paid to the family's Christmas and new year celebrations.
"It was rather wet and not very festive. We completely rely on the pump and if it's not refuelled then we're in sewage again."
A Yorkshire Water spokesman apologised to the Hinds and said the firm was taking the matter seriously.
He said: "Contrary to our earlier belief that fuel had been stolen from our generator, we can now confirm that the generator was not refuelled.
"On this occasion we did not met our high standards of operational performance."
Both pumps were functioning again and Yorkshire Water would do everything it could to continue supporting the clean-up operation in Malton, the spokesman added.