York Art Gallery £8m refurbishment to begin in new year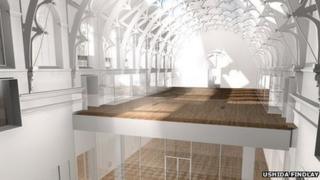 York Art Gallery is to close to the public on 31 December for a £7.6m refurbishment.
The York Museums Trust, which runs the gallery, said it had now secured £7m of funding towards the scheme.
A spokesman for the trust said it was confident it would raise a further £600,000 needed to complete the scheme.
Funded by donations and grants, the plan will take more than two years to complete and will expand the gallery's display space by almost 60%.
The additional space will enable the gallery to show more ambitious and high profile exhibitions, the trust added.
A newly built first floor South Gallery and a new gallery in the original Victorian roof space will become the home for the gallery's nationally important ceramic collections.
The largest financial contribution towards the the scheme is £3.5m from the Arts Council England.
Cluny Macpherson, regional director of the Arts Council, said: "York attracts cultural tourists from across the UK and the rest of the globe.
"This £3.5 million lottery investment will enrich York's offer and create a fantastic contemporary visual arts space for the people of Yorkshire and visitors from further afield."
The remainder of the funding includes an anonymous legacy of £2m and donations from local businesses.
Janet Barnes, chief executive of York Museums Trust, said: "Without such funding the development would not have been possible on the scale we believe is necessary to transform the gallery into one of the best in the country."