North York Moors archaeology work unearths water mill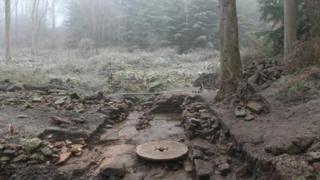 Archaeologists have unearthed what they believe are the remains of a 16th Century water mill on the North York Moors National Park.
Volunteers made the discovery on Yearsley Moor, near Helmsley.
They found the remains of a complex of buildings, including a large millstone, plus the outlines of watercourses that may have served the mill.
Pottery fragments, bone and coins have also been discovered. Little evidence of the mill has been found on records.
Lottery grant
Volunteer Geoff Snowden said: "There is no mention of a mill in official archaeological records and no sign of one on the earliest Ordnance Survey maps produced in the 1850s.
"Perhaps this is not so surprising as some of the later fragments of pottery recovered from the site suggest that the mill went out of use around the mid-18th Century.
"Scant documentary evidence does show, however, that a mill was sold by a William Wyldon of Yearsley to the Fairfaxes of Gilling in 1560.
"Then, in 1720, an entry in a Registry of Papist Estates records that a mill in Earsley (Yearsley) was still in Fairfax hands. Unfortunately, neither reference gives any indication of the location of the mill."
Yearsley Moor Archaeological Project volunteers and North York Moors National Park apprentices have been working on the moors under the supervision of an archaeologist for three years.
The Lime and Ice Project is funded by a £500,000 grant from the Heritage Lottery Fund and will run until 2013.