Unions' safety fear at Foremost school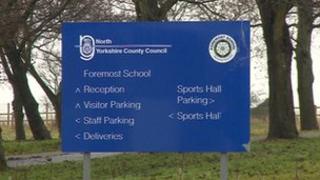 Concerns for the safety of students with challenging behaviour and their teachers at a new school have been raised by two unions.
Staff and pupils at the Foremost School are housed in a revamped former naval site at Forest Moor, Harrogate.
Unions said building design, staff safety and pupil control were issues.
North Yorkshire County Council it had been a "challenging year" and pupil numbers were currently limited, but would increase over 18 months.
The £11m facility has been built to cater for students who have been removed from mainstream education because of difficult behaviour. Some, the National Union of Teachers (NUT) said, exhibited behaviour "at an extreme".
Building design
The school has a working capacity of 40 students, but currently "just 15 or 16 pupils" are taught there, the county council said.
The influx of students has been curtailed, but is expected to reach capacity within 18 months.
The National Union of Teachers and Unison said they had raised concerns with North Yorkshire County Council over the design of the buildings where staff expected to maintain "line-of-sight" with students and other staff.
The National Union of Teachers said members had also raised concerns about the ability of students, who had "the most challenging behaviour" to move away from areas in which they were being supervised and pull open fire doors.
Unison has written to Cynthia Welbourn, the corporate director responsible for Children and Young People's Service at the county council.
The letter said: "We are writing to request an urgent meeting with you regarding the ongoing issues at Foremost School. UNISON members have a number of concerns that we wish to raise on their behalf."
Resignations
The union's letter highlighted concerns about costs, "poor" building design, the health and safety of staff, leadership and training.
The calls from both the NUT and Unison come months after three teachers and seven of the 12 governors resigned from the school, which has been running since February.
Paul Busby, of the National Union of Teachers, said: "These are very high dependency boys here, they need as much support as the authority can give."
North Yorkshire County Council said the facility had experienced what it described as "a challenging year".
A spokesman said: "Moving students with complex difficulties of this nature into a new school is never easy and the county council, governors and staff are working hard together to give the school a secure start.
"This involves providing a wide range of intensive support to the school's staff and leadership. As ever, safety is everyone's first priority.
"We are drawing on expertise from around the county and the school is currently led by an experienced and committed acting head teacher who is supported further by leading staff from our county-wide specialist provision. Arrangements for the appointment of a permanent head teacher are in hand."
The spokesman added: "Student numbers are being limited to ease the school through this transition stage and will build up in a measured way as it establishes itself.
"We have been very mindful of parents' anxieties during this period of change and have tried to keep an open door for them to discuss any concerns they have."