Heavy rain leads to rising rivers in North Yorkshire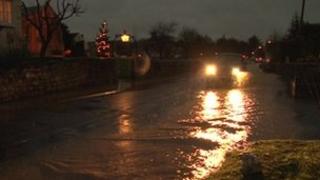 Five flood warnings are in place after heavy rainfall in North Yorkshire.
The Environment Agency said persistent rainfall on to already saturated river catchments in the county had caused river levels to rise.
It has issued warnings for the River Ouse, the River Nidd at Knaresborough and Cattall and in Pocklington, Bishop Monkton and Hovingham becks.
The agency said rain was forecast to continue through Thursday night and it was monitoring river levels.
Inquiry started
It said Friday was forecast to be dry but further heavy rain was expected on Saturday.
Some minor roads were closed on Thursday evening because of flooding, including Thirsk Bank in Coxwold, Whaites Lane in Topcliffe and Back Lane in Swainby.
The flood warnings came on the day that North Yorkshire County Council started an investigation into how recent flooding was managed and how it might be prevented in the future.
Although flood defences across the county held earlier this month, many homes were flooded by groundwater and surface water.