Demolition of landslip homes in Whitby nears completion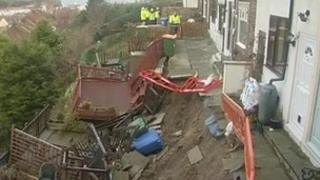 The "painstaking" demolition of a row of five houses in North Yorkshire left hanging over a sheer drop following a landslide is nearing completion.
The brick-by-brick demolition started on 1 December after the landslip left the terraced houses on Aelfleda Terrace in Whitby structurally unsafe.
Scarborough Council said work was due to be finished at the end of the week.
The site will then be handed back to the property owners for insurance companies to agree a way forward.
The terrace of fishermens' cottages, which are more than 100 years old, overlook the seaside town from the east side of the River Esk and are just a few hundred yards from the historic Whitby Abbey.
Jude Knight was the only permanent resident of the properties and is now renting a house nearby.