March over Malton minor injuries unit opening hours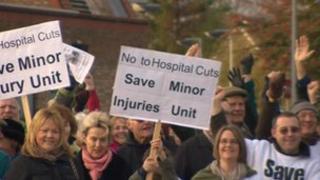 People opposed to reduced opening hours at a minor injuries unit in North Yorkshire have staged protest march.
Since the beginning of December, the unit at Malton hospital has cut its opening hours and closed on weekends in a bid to save money.
Wendy Marucci, owner of a residential home, said people feared it would lead to the closure of the hospital.
NHS Scarborough and Ryedale Clinical Commissioning Group (CCG) said reduced hours were a short-term measure.
The unit used to be open seven days a week from 08:00 GMT to 21:30.
Its hours have now been changed to 09:00 to 17:00 Monday to Friday.
Strength of feeling
Ms Marucci, owner of Spring Cottage Residential Home in Norton, said staff and residents relied on the services provided by the unit.
"Evening times are the time when elderly people get tired and they're liable to have falls," she said.
"If they've got a cut or anything like that we'd pop them in the car and go up there.
"Now if it happens at five, we'd have to call an ambulance and get them to York or Scarborough.
"Not only that we'd have to get extra staff in to cover our shift and we wouldn't be able to go with them."
Simon Cox, chief operating officer for CCG, said he appreciated the strength of feeling towards the unit and the decision was not taken lightly.
He said once the reduced hours period was over in April, they would review how much money it had saved.
Mr Cox said there were no plans to close the hospital.