Dwight D Eisenhower loco's 'family reunion' paint job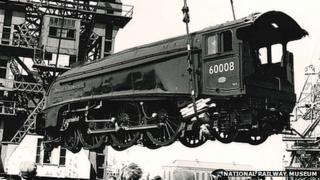 A sister locomotive of the famous Mallard steam engine has been given a fresh coat of paint in York ahead of a unique "family reunion" next year.
The Dwight D Eisenhower, an A4 Class engine, was built in Doncaster in 1937 and was moved to America in 1964.
The 94-tonne loco was shipped back to Yorkshire in October to receive a coat of traditional Brunswick green paint at the National Railway Museum (NRM).
It will join the five other surviving A4s at a celebration in York in 2013.
Record-breaking achievement
Next year marks 75 years since Mallard, another A4 Class loco, broke the world speed record to become the fastest steam locomotive of all time.
On 3 July 1938 the Mallard was recorded as having reached 126 mph (202.8 km/h) on what is now the East Coast Main Line.
The locomotive, designed in 1935 by Sir Nigel Gresley, broke the existing German record of 124 mph (199.6 km/h) set two years previously.
To mark the anniversary of this record-breaking achievement, all six surviving A4 Class locos will be gathered together at the NRM in York in July.
It will be the first time ever that the six engines - Dwight D Eisenhower, Mallard, Bittern, Union of South Africa, Dominion of Canada and Sir Nigel Gresley - will have been seen together.
A total of 35 A4 Class locomotives were built in Doncaster between 1935 and 1938, with the Dwight D Eisenhower loco being built in 1937 for the London and North Eastern Railway.
Originally known as Golden Shuttle, the engine was renamed in 1946 in honour of the famous American wartime general.
Eisenhower was commanding officer of the victorious troops in Europe in World War Two and went on to become president of the United States.
The eponymous locomotive returned to Doncaster in 1963 for restoration work before being shipped from Southampton to New York the following spring.
From there it was taken to the National Railroad Museum in Green Bay, Wisconsin, where it has been on show ever since.
'Special place'
The engine made its first return to British soil in October this year when it was unloaded at Liverpool docks after travelling by sea from Nova Scotia.
It is now on loan to the NRM in York for two years.
Steve Davies, NRM executive director, said gathering all six remaining A4 Class locos together in one place would be worth the "immense" challenge it posed.
"We wanted to do something really special to mark the 75th anniversary. What could be more spectacular than an international family reunion for the A4s?"
Jacqueline D Frank, executive director of the National Railroad Museum, said she hoped the British public would enjoy the chance to see Dwight D Eisenhower.
"Although built in Doncaster, it now occupies a special place in the hearts of the American people due to it being renamed after one of our presidents."