Aelfleda Terrace house owner 'overwhelmed by kindness'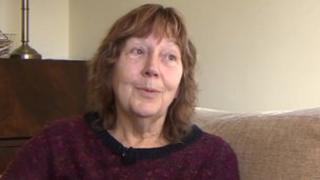 The only permanent resident of a row of five houses in North Yorkshire being demolished after a landslip, said she is overwhelmed by the community's help.
Jude Knight has lived on Aelfleda Terrace in Whitby for about 26 years and is now renting a house nearby.
The brick-by-brick demolition of the structurally-unsafe houses left hanging over a sheer drop started on 1 December.
Ms Knight said: "It's just been overwhelming, the kindness of people."
"Within hours of the landslip happening and me being homeless I had offers of accommodation from two people", she added.
Ms Knight said she also had had offers of furniture, clothes and kitchen equipment.
A local shop owner has now set up a collection to raise money for Ms Knight.
'Whitby rallies together'
Trudie Ward has put a bottle for cash contributions on the counter of her local vintage shop and has already collected hundreds of pounds.
"It's a good place to have a collection jar," she added.
Jon Stokoe, the editor of the Whitby Gazette, said: "At times of great need Whitby always rallies together."
The demolition work started at roof level on the dormer window of the house at 7 Aelfleda Terrace where contractors used a cherry-picker to start by hand.
Scarborough Council previously said the demolition could take some considerable time to complete because of the "precarious" nature of the work.
The terrace of fishermens' cottages, which are more than 100 years old, overlooks the seaside town from the east side of the River Esk and is just a few hundred yards from the historic Whitby Abbey.