Scarborough Town Hall office space to be reduced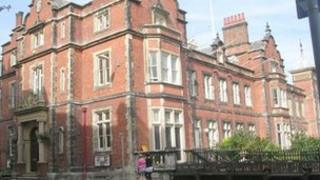 Office space at Scarborough Town Hall is to be reduced by up to 71% as part of council plans to revamp the building.
Current office accommodation is too large, in poor condition and would cost too much to bring up to standard, according to a borough council report.
Surveyors appointed by the authority said the amount of office space needed to be reduced.
Councillors asked for more details on three options to change office space.
The council report said maintaining the "unsuitable" office space would be an "ineffective use of resources".
Earlier plans to move more than 300 council staff to an out-of-town site were rejected amid concern it would have a negative impact on the economy.