North Yorkshire to hold flooding inquiry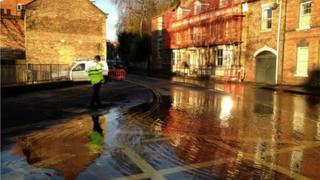 An inquiry is to be held into how recent flooding in North Yorkshire was managed and how it might be prevented in the future.
Although flood defences across the county held, many homes were flooded by groundwater and surface water.
North Yorkshire County Council said the inquiry would begin once emergency operations had been completed.
In Malton and Norton, some properties flooded could remain so until Christmas, the council said.
Excessive rainfall led to significantly high surface water levels in many areas of the county at the end of November.
In Malton and Norton, the problem was exacerbated by water from natural springs coming up through the ground because of the saturated water table.
'Warn and inform'
Mark Young, flood management officer at the council, said: "Areas like Malton are rare where the ground water levels rise to such a level in the underlying rock it comes out.
"We are looking at what we can do to warn and inform people of the risk and also to look to see where levels can be pumped down. There are certainly things we want to look at to protect properties where we can."
The Conservative-run county council is responsible for assessing and managing the risk of flooding from groundwater and surface water.
The Environment Agency is responsible for flooding from the main rivers.
Mr Young said the inquiry would involve all the authority's partners in flood risk management.
"Whilst we are looking seriously at issues in Malton, we are also kicking off an investigation right across the county to make sure that all those communities who have suffered flooding do not feel their problems are being ignored," he added.