Duke of York at minster service for Yorkshire Regiment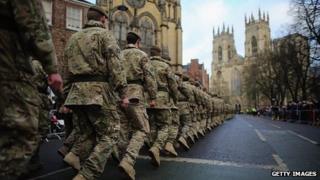 The Duke of York has attended a thanksgiving service for members of the 3rd Battalion The Yorkshire Regiment.
The service at York Minster marked the return of the battalion from operations in Afghanistan in September.
Prince Andrew, who is Colonel-in-Chief of the Yorkshire Regiment, gave a reading during the ceremony.
Earlier a large crowd cheered and applauded as more than 500 members of the battalion paraded through the city centre.
Maj Finlay Bibby, from the battalion, said: "It is a real morale boost to see hundreds of people lining the streets, cheering you on. It is a wonderful feeling and it makes you feel very appreciated."
Lt Col Zac Stenning, commanding officer of 3rd Battalion, said it was an "immensely important" occasion.
He said: "It captures two things - the success of the tour and also the poignancy and dignity of remembering our fallen brothers in arms who haven't come home this summer."
Nine members of the regiment were killed during its tour, a 10th man died at home in October. All 10 were remembered during the service.