North Yorkshire villagers in plea for flood measures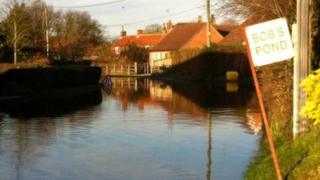 Villagers in North Yorkshire who were cut off in last week's floods have pleaded with authorities not to overlook them.
Roads into Brawby near Kirkbymoorside were only accessible by 4x4 vehicles after drains flooded.
At a public meeting in the village hall on Tuesday night residents demanded action to prevent a repeat.
Officials denied the village was being ignored but could not say if or when a solution would happen.
Villagers said streets in Brawby often flooded with contaminated water during heavy rainfall because the antiquated sewerage and drainage systems could not cope.
Resident Laurie Thackray told the meeting last week's floods were the worst since 1947.
"Ninety-nine per cent of the problems could be solved with two months of disruption in the village. End of story," he added.
Funding problem
Others at the meeting said the village was overlooked because priority was given to bigger places like Malton, Norton and York.
Officials from Yorkshire Water, North Yorkshire County Council and Ryedale District Council all attended the meeting.
They denied Brawby was being passed over but had little in the way of promises of long-term solutions for the residents.
"What we are saying is you are going to be looked at, problems identified and possible solutions identified," said Richard Marr from North Yorkshire County Council.
"The stumbling block usually comes when you try to fund these projects," he added.