York bin reinstatement plea rejected by council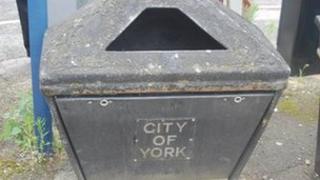 More than 300 litter bins removed from the streets of York to save the city council money will not be put back despite a campaign by residents.
Councillors decided in June to take the bins away to save £40,000 a year.
Petitions calling for them to be put back attracted more than 2,000 signatures.
David Levene, the council's cabinet member for environmental services, has rejected the idea of replacing them all but has agreed to put some back.
Mr Levene said if all the bins were replaced other services would suffer.
"The reality is we don't have the resources to do that. We are looking at every bin and how it is used and doing it on a case-by-case basis.
"We are monitoring it and there has not been an increase in littering across the city in areas where bins have been taken out."
'Totally wrong'
However the opposition Liberal Democrat group on the council reacted angrily to the decision.
Lib Dem group leader Councillor Carol Runciman said the ruling Labour group were totally wrong.
"In the face of public opposition Labour have been forced to reinstate a few bins, but the Liberal Democrat group will continue to argue that they should return all bins where there is a demand to do so and where an increase in litter has been reported by residents or local businesses," she said.
Following the initial removal of the bins there was a public outcry amid claims of a lack of consultation.
Liberal Democrat members led a campaign for them to be returned.
Twelve were put back and 17 others were relocated from other parts of the city.
In Dunnington, two bins that had been removed from the sports club area were put back on the understanding that members empty them.