York railway line gap risked tragedy - RMT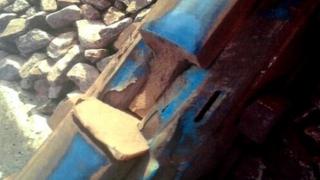 A gap in the railway line near York which was created by a cracked rail could have caused a "major tragedy", the RMT union has claimed.
The RMT released a photograph of a 5in (13cm) gap on the East Coast Mainline at Colton Junction, and said it could have derailed a train.
But Network Rail said "as soon as a crack in the rail was reported, trains were stopped".
The organisation said no staff or passengers were put at risk.
The RMT though said that was "total garbage".
'Dicing with death'
General secretary Bob Crow said: "This shocking picture highlights the reality on Britain's railways today.
"Staffing and inspections have been cut in the dash to save money and there is massive pressure right from the top of government to keep services running at all costs regardless of the potential human cost.
"This is exactly the same set of poisonous conditions that led us to the Hatfield disaster and as this picture shows we are dicing with death and risking another major rail tragedy."
Rachel Lowe, from Network Rail, said a minor defect in the rail was identified in an inspection on 12 November, and again on 21 November, but there was "no visible crack in the rail at all and it was managing within normal standards".
She said: "The rail deteriorated and that was identified by the train driver just after 12:00 GMT on 28 November, and we immediately stopped any trains from travelling over that track."
Network Rail said the driver noticed the gap as he passed it on an adjacent track.
Ms Lowe said: "From the evidence in front of us we are confident that nothing had gone over [the gap]... If a train had gone over it the edges would have been ground down, but as you can see in the picture the edges are sharp.
"Cracks in the rail are serious. They are a part of rail life, rail becomes old and does deteriorate over time."
Ms Lowe added: "Safety issues are never ever going to be compromised in the name of cutting costs."