North Yorkshire floods: River levels steadily dropping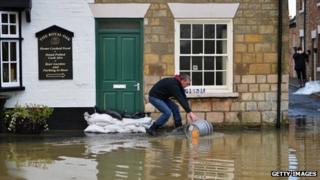 River levels have been steadily dropping across North Yorkshire after heavy rain led to a week of flooding, according to the Environment Agency.
Several flood warnings remain in place for the county.
Richard Clarke from the agency said there were 10 pumps in Malton working around the clock to get water back into the river, and its incident room in York would stay open.
He said flood defences had held but surface water had affected properties.
Mr Clarke said 10mm-20mm of rain was expected to fall on Monday and Tuesday, but it was not likely to cause further flooding.
He added: "This year it's been a particularly busy year for us in terms of flooding."
North Yorkshire Fire Service said it was scaling back its operation to tackle the floods.
Group manager Peter Hudson said: "At the moment we still have a couple of pumps [in Malton and Norton].
"It's just a case of reducing the water levels now and pumping the water back into the River Derwent."
North Yorkshire Police said County Bridge linking Malton and Norton was now open to all traffic after earlier being closed due to flooding.