Whitby landslip houses demolition begins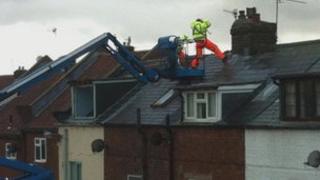 The "brick by brick" demolition of five houses in North Yorkshire left hanging over a sheer drop following a landslip has started.
The landslip, overnight on Tuesday, left the row of terraced houses on Aelfleda Terrace in Whitby, structurally unsafe.
Work started around 09:00 GMT as about 10 contractors moved on to the site.
Gabrielle Jandzio, of Scarborough Council, said it would be a "lengthy process" of demolition by hand.
She added: "The land that faces the harbour is potentially moving so we are having to constantly monitor the situation."
Fishermens' cottages
The work started at roof level on the dormer window of the house at 7 Aelfleda Terrace where two contractors using a cherry-picker have started the demolition by hand.
Ms Jandzio said the demolition could take some considerable time to complete because of the "precarious" nature of the work.
The terrace of fishermens' cottages, which are more than 100 years old, overlook the seaside town from the east side of the River Esk and are just a few hundred yards from the historic Whitby Abbey.
The council said the cause of the landslide was not yet known and only one of the properties had been occupied.