Levels on River Derwent in North Yorkshire remain high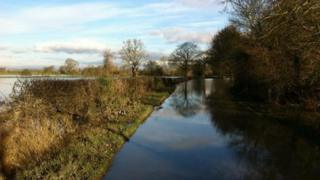 It will be Saturday before the level of the River Derwent at Malton starts to drop, the Environment Agency has said.
Malton, Old Malton and Norton are defended from the river but surface water and backed-up drains have flooded several properties in the area.
North Yorkshire Police said there was also concern about rural communities being cut off due to flooded roads.
A command base at Malton police station is co-ordinating flood relief operations in the area.
The force said officers had been sent to villages around the Ryedale district to check on "vulnerable people".
'Vulnerable people'
North Yorkshire Police's District Commander Insp Andy Everitt said: "We are in a couple of villages at the moment south of Malton.
"Just assessing whether there are vulnerable people, elderly people who may need moving as a result of the roads flooding."
The village of Brawby is one of those affected.
Resident Karen Garbutt said the drains had been unable to cope and the village street was flooded with water contaminated by sewage.
"People are loathe to walk through it. It is just not nice and unfortunately no-one seems interested in doing anything about it," she added.
Don Robinson, from the Environment Agency, said they were continuing to pump water out in parts of Malton and Norton.
He said: "The river here stays up for a long time and will stay up for at least 48 hours."
The agency and the fire service have been using high volume pumps to remove surface water which continues to threaten homes and businesses.
"Unfortunately the water coming off the land is pooling behind the defences because it just can't get into the river naturally.
"The drainage system is completely full and we are trying to keep levels down. We find if we slow the pumps at all the water levels just shoot-up," Mr Robinson said.