Water seeping through Norton flood defence wall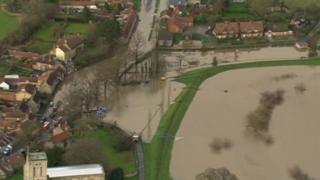 Residents in a North Yorkshire town have been warned to move furniture and belongings upstairs after water began to seep through flood defences.
Some residents in Norton, near Malton, said police had been knocking on their doors urging them to take action.
Crews have been pumping out surface water overnight in four areas to prevent further flooding.
The Environment Agency said the police action was a precautionary measure and they were "satisfied everything is OK".
The agency and North Yorkshire Police said there was no indication the defences would be breached.
The River Derwent has peaked through Malton but water levels would remain high for some time, the agency said.
Earlier on Wednesday evening, Graham Reagan, from Norton, said: "We literally live opposite the bridge that joins Malton and Norton and there appears to be a lot of concern from the emergency services still at the scene, so we are moving stuff."
Backed-up drains
Innes Thompson, from the Environment Agency, said: "We have a little bit of seepage which is coming through the walls. What the police are doing is very much a precautionary measure which is to ask people to take steps to protect their goods just in case."
Mr Thompson said the current level of the Derwent was 16ft (4.9m) and well below the height of the defences.
A £9m flood defence scheme protects residents in Malton, Old Malton and Norton from the River Derwent but excessive surface water and backed-up drains have already caused flooding in the towns.
The Environment Agency said a "handful of properties" had been affected.
Elsewhere, the City of York Council said that it was supporting a series of measures to help residents whose homes had been affected by flooding.
The River Ouse peaked in the city at just over 14ft 9in (4.5m) on Wednesday morning.
The council said that people on low incomes who were not fully insured could apply for help from the York Disaster Fund charity.
Other help includes benefit advice and temporary relief from council tax for people whose homes are uninhabitable and for businesses forced to close.